This year was the 10.th Anniversary for Gasshuku in Slovenia with Masahiko Tanaka Sensei and Kazuhiro Sawada Sensei. The venue was Cejle – a small picturesque village surrounded by lush mountains. Celje is situated approximately 75 kilometers east of the capital Ljublana with approx.. 50.000 inhabitants.
Branko Gabrovec sensei, JKA chief-instructor in Slovenia started 10 years ago with a rather humble and small Gasshuku. Today the event has grown into an large international Gasshuku with participants from Slovenia, Hungary, Germany, Italy, Russia, Ukraine, Denmark, Macedonia, Switzerland, Bulgaria, Bosnia, Japan, Belgium and Slovakia. 
The huge attraction can in no small measurement be ascribed to Tanaka Sensei, whose very presence can attract practitioners from far away. Many of the participants have partaken several times and friendships have emerged and grown over the years, being another reason for coming back year after year.
This year Tanaka Sensei introduced Seizo Izumiya Sensei, 7.dan from JKA Honbo Dojo, as his successor and leader of future Gasshuku's in Slovenia.
Tanaka Senseis is withdrawing from official JKA Gasshukus after some disagreements with JKA; news which the participants received with sadness and wonderment. It also means that Tanaka Sensei no longer is deputy chief-instructor at JKA.
The fact that politics might be the reason for Tanaka Sensei retiring from JKA management seem incomprehensible. Especially since Tanaka Sensei by many are perceived as the supreme representation and interpreter of JKA Shotokan karate. There was a clear sense that none of the participants shared the wisdom of this decision.
Many of the chief-instructors have developed a close relationship to Tanaka Sensei, who have been the driving force behind the development of JKA Shotokan Karate in regions and countries such as Hungary, Austria, parts of Germany, Slovenia and many more. In countries such as Canada and Denmark Tanaka Sensei has broadening the knowledge of JKA Shotokan karate and heightening the level of expertise by a tremendous personal effort. Incidentally Tanaka Sensei lived in Denmark for a period of two years, from 1975 to 1977 due to a close friendship and professional relationship with Frank Starck-Sabroe sensei.
This year Tanaka Sensei celebrated his 73 years birthday. An age that is difficult to relate to once you see and experience the energy that Tanaka Sensei can infuse in a large dojo. Back in 1984 I studied under Tanaka Sensei myself while in Japan and also several times during his visits to Denmark. It is difficult to point to any changes in his energy level, which remains incredibly high. Tanaka Sensei is focused beyond description and demands a high level of commitment, which one participant experienced when he was taken aside and received special attention and tutoring in Bassai Dai. That was intense and the participant was challenged to the extreme.
Tanaka Sensei dissemination of karate have been instrumental in raising the level of karate i.e. Slovenia and Hungary, which today is very high. Both countries have been able to assimilate and maintain the high level of technical skill hat characterised Tanaka Sensei's approach and understanding of kihon, kata and kumite. Tanaka Sensei has always been known to nurture and care-take the values and principles passed on from Nakayama Sensei and so central and essential for the development of JKA Shotokan karate.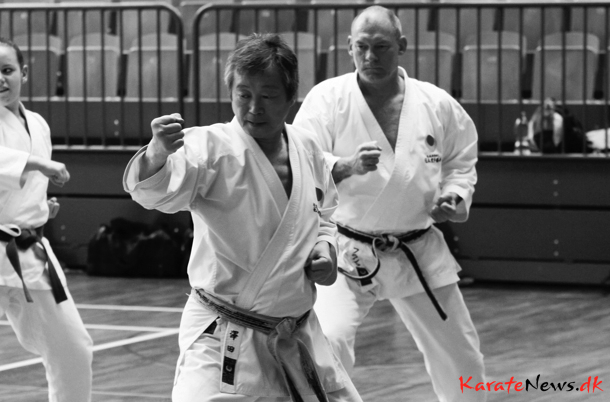 Kazuhiro Sawada sensei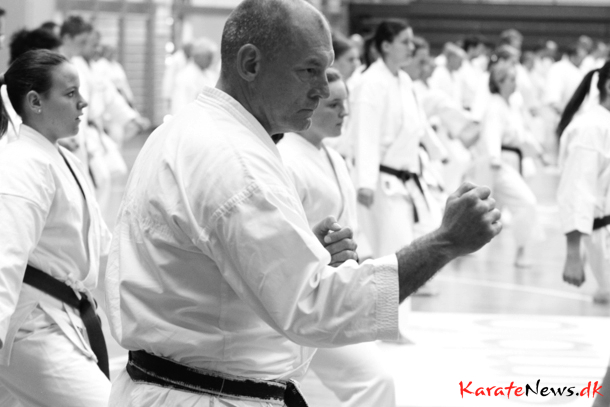 Frank Starck-Sabroe sensei
Izumiya Sensei taught several times during this Gasshuku. He was clearly a worthy successor with a skill set of a high technical level, which he is able to disseminate in a very good way – not to mention his sympathetic demeanour and good sense of humour. It is my impression that the participants accepted him and welcomed him.
Gasshuku was concluded with graduation for dan-degrees and testing of instructors- and judges.
True to traditions there was a party Saturday night. It took place in a very idyllic location close to the medieval Castle – Celje Upper Castle. Speeches, singing and presents for Tanaka Sensei was given and Tanaka Sensei himself gave a very emotional speech thanking Branko sensei for the 10 years that had been rewarding for both parties.
Tanaka Sensei is renowned for his humour and his ability to get a party started. Mirjam Widmer san experienced this personally after being voted the most beautiful woman by winning a dance with Tanaka Sensei.
Thank you very much to Branko Gabrovec sensei, chief-instructor of Slovenia for a excellent Gasshuku 2014.
In June JKA Hungary has their last Gasshuku with Tanaka Sensei and Sawada Sensei – and again Izumiya sensei will be presented as successor.
Even though Tanaka Sensei no longer is deputy chief-instructor of JKA it in no way signifies a 'good-bye' to karate. As mentioned above Tanaka Sensei is extremely active in karate and still has so much to offer the rest of us.
That is also why is gives us great pleasure and pride in being able to welcome Tanaka Sensei to Gasshuku at Shotosha Denmark in November 2014 in Copenhagen. This Gasshuku receives a lot of attention and we expect many participants to come from all over Europe.
Gasshuku in Denmark is open to everybody who wishes to train under Tanaka Sensei. Read more about the event and registration at www.shotosha.dk

Text and photos: Jesper F. Andersen
Translation: Richard Ledborg Hansen