Text and photo: Jesper F. Andersen, KarateNews Denmark
From July 17th until July 20th the Hungarian JKA Association hosted a major Gasshuku in Budapest.
The instructors were:
Massahiko Tanaka, 8. Dan
Vice Chief Instructor in Japan Karate Association
World Champion Kumite, 5 times
Kazuhiro Sawada, 7. Dan
JKA instructor in Belgium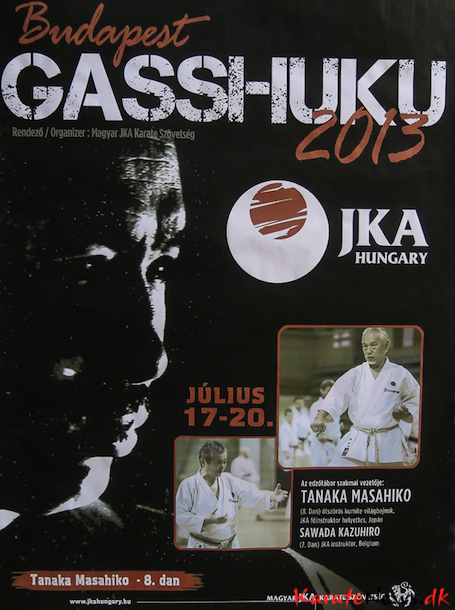 At a training session in Denmark earlier this year, Frank Stack-Sabroe sensei had told me, how he regularly participated at Gasshukus around Europe whenever Massahiko Tanaka sensei teached and trained. Frank sensei was going to the Gasshuku in Budapest this year and through him it was arranged that I could visit and I was able to capture some of those extraordinary moment on camera.
More then 400 karate-ka's from 17 different countries participated in this years Gasshuku in Budapest, Hungary. Approximately 70 percent were black-belts – many of whom are instructors in their own clubs and some national chief-instructors as well. So the environment was one of a very high level of participants and an incredible high level of teaching.
Tanaka sensei is the closest thing to a living legend one and is extremely well respected – almost revered – throughout the world wherever he teaches. He is personally responsible not only for the extend to which JKA is dispersed throughout Europe but also for the respect surrounding JKA due to his many visits and stays in various European countries. From 1974 to 1976 Tanaka sensei lived in Denmark and was JKA Chiefinstructor here. Although next year (2014) marks the 40th anniversary of Tanaka sensei's stay in Denmark his influence on Danish JKA karate has been tremendous and the JKA community still reverberates from those few years.
The Gasshuku in Budapest took place in a large and very modern sports arena. There was a thorough admission control and nobody could participate unless registration and payment had taken place. It was forbidden to take pictures unless specific authorization had been given.
I was at the arena well ahead of time and was talking to Frank sensei and some Norwegian karate-kas when Tanaka sensei arrived. The whole arena fell quiet – everybody stopped what they were doing – respectfully stood up and bowed. The traditional greetings of "Osu" were almost tangible – a physical presence in the large room. Tanaka sensei and Sawada sensei then went to a small instructors table set up at the far end of the arena. Both of them always arrived ½ an hour before the training started.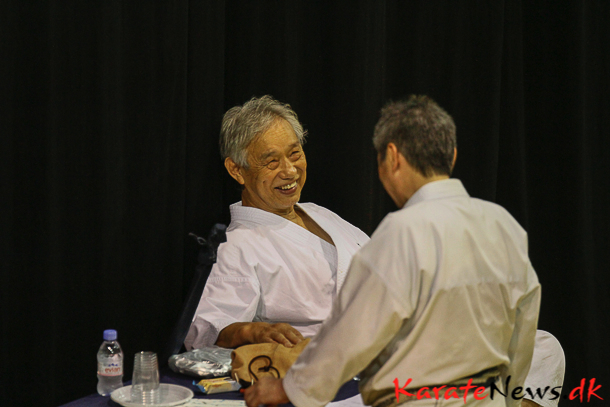 Tanaka sensei has a very distinct charisma and a personality that brings about the sensation of being in the presence of a true samurai.
Frank sensei asked me to join him in greeting Tanaka sensei, who I have trained under several times including my stay at JKA Honbu Dojo, Japan in 1984.
It was a very joyous moment for both when Tanaka sensei and Frank sensei greeted. There is no doubt about the special bond between these two extraordinary fighters, instructors and teachers. Tanaka sensei embraced Frank sensei and it was a moving moment that could be felt at a distance.
Shortly afterwards Tanaka sensei summoned all the various chief instructors and senior black belt; introduced Frank sensei and told them that Frank sensei was like a son to him. They all respectfully bowed for Frank sensei.
Frank sensei told me later that the extraordinary and close relationship was founded through many trainings sessions in Denmark, Europe and Japan – not to mention the many private stays each had enjoyed with each others families as well.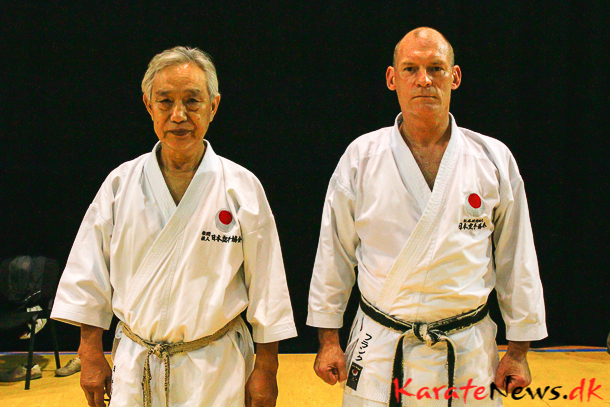 Then the training began. It started off with Kumite and multiple repetitions. The atmosphere is very special when several hundreds karate-kas are moving around making "Kiai!". Tanaka sensei was fantastic; moving around and demanding a 100 percent effort from everybody – and everybody inspired to willingly give it – not holding back.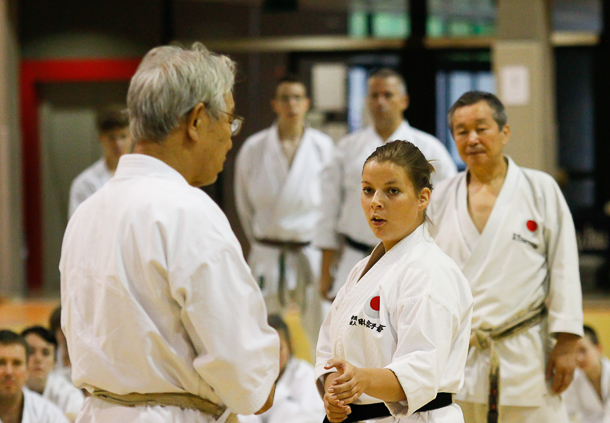 Later in the day the participants were divided into dan- and kyu grades as kata were to be trained. Unsu and Gankaku were systematically being explained and practiced before numerous executions were done without a count. During this session I could not help but notice Frank sensei.
I have seen many kata's performed during these past years at tournaments – both at home (Denmark) and abroad, but seldom with as much focus, power and execution of technique as Frank sensei did here at the age of 51. The training effort that lies behind executing and demonstrating karate at that level is as most of us know extensive. And it wasn't just me that noticed it; many of the instructors present commented on this and expressed their admiration for Frank sensei performance.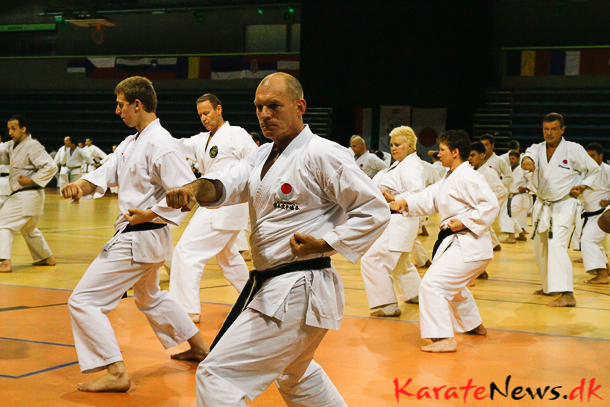 During the breaks I spoke with several of the chief instructors from various countries in the region. They told me that Tanaka sensei would soon retire from JKA. Apparently there is a situation of political unrest within JKA Japan, which has led to Tanaka sensei's desire to withdraw from JKA Japan. It will be extremely interesting to follow Tanaka sensei in the future and his position in the world of karate. Later, Frank sensei informed me that Tanaka sensei remains in the JKA, but leaves his Vice Chief Instructor post.
In the evening the Hungarian Chief Instructor, János Krepz sensei has arranged a get-together at a cozy traditional Hungarian restaurant. When Tanaka sensei arrived he was carrying a wooden container in his belt that held a set of chopsticks. Tanaka sensei asked Frank sensei to sit between him and Sawada sensei. During the dinner there were festive appearances by local dancers and singers and several of the present karate-kas has to join in the performances on the stage.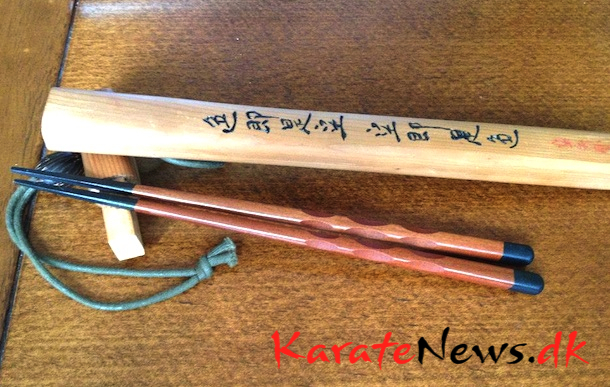 When Tanaka sensei was done with his meal he gave away his chopsticks and the wooden container to Frank sensei as a gift. It turned out that Tanaka sensei had made the container and chopsticks himself – quite an exquisite little piece of art that Frank sensei had to show to several of the other curious participants that evening. Tanaka sensei is a very creative person and skilled in both woodwork and calligraphy. True to the samurai tradition he embodies that quality of uncompromising pursuit of excellence – be it in artistic endeavors or the execution of techniques.
The next day Sawada sensei started by explaining the kata Gojushiho Sho, and afterwards Tanaka sensei took charge of the Kumite training. During this Tanaka sensei shared some of his own learning experiences during his years of training with Nakayama sensei.
One of the anecdotes was about a tournament in which Tanaka sensei had come in 3rd. It was early in Tanaka sensei's career and at a big tournament in Japan. Afterwards Nakayama sensei told Tanaka sensei to practice his Kihon for a whole year just in order to improve his Kumite. Tanaka sensei did so; and for a whole year he only focused on Kihon. At the next championship he won and also came to realize the importance of Kihon in regard to Kumite.
Tanaka sensei stressed that every individual karate-ka is responsible for his/her own development and that throughout each and every training session one should be very conscious of how one trains.
That afternoon there was a black-belt examination with approximately 30 students aspiring for grades between 1. (Sho-dan) and 5.dan (Go-dan). Following the examination a Shotokan Cup was held with competitions in both Kata and Kumite. It was inspiring to watch a tournament where the focus of karate was shobu-ippon rules – one decisive score – and the execution was one of respectful demeanor in all aspects. Frank sensei was appointed judge in both the Kata and Kumite competitions. The tournament lasted for a few hours and was an excellent closure of what was clearly a week of intensive and inspiring training for all.
Saturday evening was set up for a big farewell party in what I would have to say was far to small rooms for that many people. This resulted in a significant delay of food and the Hungarian hosts apologized profusely for this.
During the party I had the pleasure of talking to Marie Mortag – the only other Dane at this Gasshuku beside Frank sensei. She had been an active participant for many years at these Gasshuku's with Tanaka sensei. Not only was the training phenomenal but her participation had also been instrumental in many of the friendships she now had all over Europe. Marie Mortag is chief instructor in Gyoku Ryo Kan Dojo, a club located in Christianshavn, Copenhagen, Denmark.
Everybody that has been exanimated that afternoon was called up and given his or her degree. There was a lot of applause and "Kampai!" and the celebration went on all evening. Tanaka sensei had received numerous gifts – many of those bottles and one of those bottles a "Gammel Dansk". That and many others was opened and generously shared by Tanaka sensei. Despite the fact that Tanaka sensei is now 72 years of age his participation is characterized by presence, interest and humor. Tanaka sensei was dressed up with a headband and a cloth around his waist and those who have been fortunate enough to party with Tanaka sensei before will recognize this image. Tanaka sensei has a great sense of humor and it was interesting to see so many young people attracted to the qualities of life that he represents and embodies.
During the evening I had an opportunity to put a few question to Frank sensei:
"Why haven't we seen you or heard from you during these past years?"
I have never been one to seek attention. For me the training has always been key. Circumstances have sometimes led to public interest in my person, but it was never something I sought out. Despite my absence from the organized side of various fragments of karate life, I still get a lot of attention and I get regular requests for my teaching. These requests and interest come from all over Denmark and elsewhere in Europe.
"What have you been doing in all those years?"
I have spent the last many years training and developing the instructors around me, my karate and myself. I'm chief instructor for a few clubs that are dedicated to traditional JKA karate and that is extremely important to me. Most of them have been studying and training karate in 30 years or more and we regularly participate in Gasshuku's all over Europe – just like the one you have seen here.
"What kind of organization do you have in Denmark?"
I have always been a member of JKA – as have my instructors. We have participated in Gasshuku's with Tanaka sensei whenever Sensei has been in Europe. My karate is based on this and builds upon the teachings of Tanaka sensei. For me Tanaka sensei is the personalized embodiment of Shotokan karate – a unique interpreter and inspiring teacher – and I think I'm extremely privileged to have the opportunity to learn from this JKA grand master. But to answer your question – the clubs that I have assumed responsibility of all practice Shotokan karate in the traditional way – and in the spirit of Tanaka sensei.
KarateNews will at a later date make an exclusive article about Frank sensei's organization.
A few days later my journey continued; richer by a few good days in Budapest. It was very interesting to experience so many karate-ka's gathered to train, practice and learn from one of the greatest still-living masters of JKA Shotokan karate. To bring about such an event successfully is a true achievement and the Hungarian association led by János Krepsz sensei truly deserves recognition and gratitude from all participants and guest. The level of information, the planning and execution were in all aspects professional.
I can only convey my deepest respect and gratitude to János Krepsz sensei and Frank sensei for the opportunity to experience the Budapest Gasshuku 2013. Thank you very much.