Osu Dear Respected Budo Friends.
We will be honor to see your great Kyokushin Karate team at "The Ultimate World Open Karate Tournament" at the 25th of may 2013 in Wonderful Copenhagen,
This World Open Karate Tournament is Open for all style and organization to Honor Sosai Mas Oyama 10. Dan the Founder of Kyokushin Karate that past away in 1994.
Sosai Mas Oyama 10. Dan the founder of the world strongest karate " Kyokushin karate". His energy moves round the whole universe glow for millions of practitioners.
Today there is many different Kyokushin Karate organization, and style that all come from Sosai´s Kyokushin Karate all of which live after Sosai`s philosophy of life, Kyokushin
and Budo start with kindness and respect.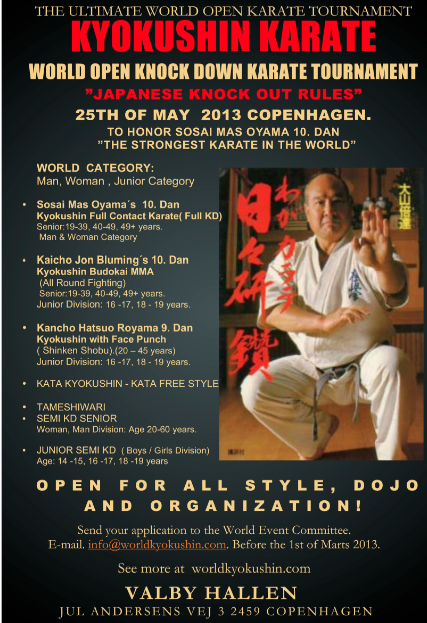 We are an independent Groups of old Shihan that like to united the Kyokushin World, no politic or profit, this is Sosai Kyokushin Budo Karate with friendships, kindness and respect. We all love Sosai Kyokushin
let us work together and united the World kyokushin". Sosai have a dream to make a better world through Kyokushin Karate, let us implement his dream and make the World peace through this World Open karate Tournament.
This World Open Karate Tournament belong to the world, not just one a single Organization, but every Kyokushin karate organization in the World. So joint this non profit event.
So let us all meet in friendships and respect in Wonderful Copenhagen,
This "Ultimate Challenge World Open karate Tournament" in Copenhagen at the 25th of May 2013 is also to Honor Sosai Mas Oyama`s old Shihan´s,
who have spent their lives to share there big knowledge and make Dojos all over the world so there may be better people true Sosai´s Kyokushin Budo karate. It was his dream to make world peace true Kyokushin karate.
One of his first Shihan outside Japan was Kaicho Jon Bluming 10. Dan Karate and 9. Dan Judo that brought Kyokushin Karate to Europe in 1961, he was also one of the best ever in Judo and live for long time in Japan
and trained with some of the world best in judo and Kyokushin karate, he will be 80 years old at the 6 of February he have made many Seminar and workshops all over the World to spread the true Budo form,
he is a true old Master of Budo, that have give the Budo world so mush, or the famous Kancho Hatsuo Royama 9. Dan the founder of Kyokushin-kan International former All japan Champion and World Vice Champion at
the World First Open Karate tournament in Japan in 1975, or Kancho Tadashi Nakamura founder of the World Seido Karate one of the best Kyokushin karate instructor ever, or kancho Steve Arneil 10. Dan Founder of the
(IFK) International Federation of Kyokushin that made 100 Man Kumite in Japan in the old days or Kancho Kenji Medori of ShinKyokushin the World Champion and one of the best techniques ever, or Soke Matsui the former
World Champion and All Japan Champion, Kancho Bernard Creton 9. Dan Founder of karate Juitsu, Kancho Matsushima 10. Dan, Sosai Mas Oyama created many masters of Kyokushin. There is many old Shihan there in silence teaches the authenticity Kyokushin Karate in their own Dojo
all over the world that deserve our respect. This World Open Karate Tournament is made in the Honor of all this find Budo Ka that make the world a better place.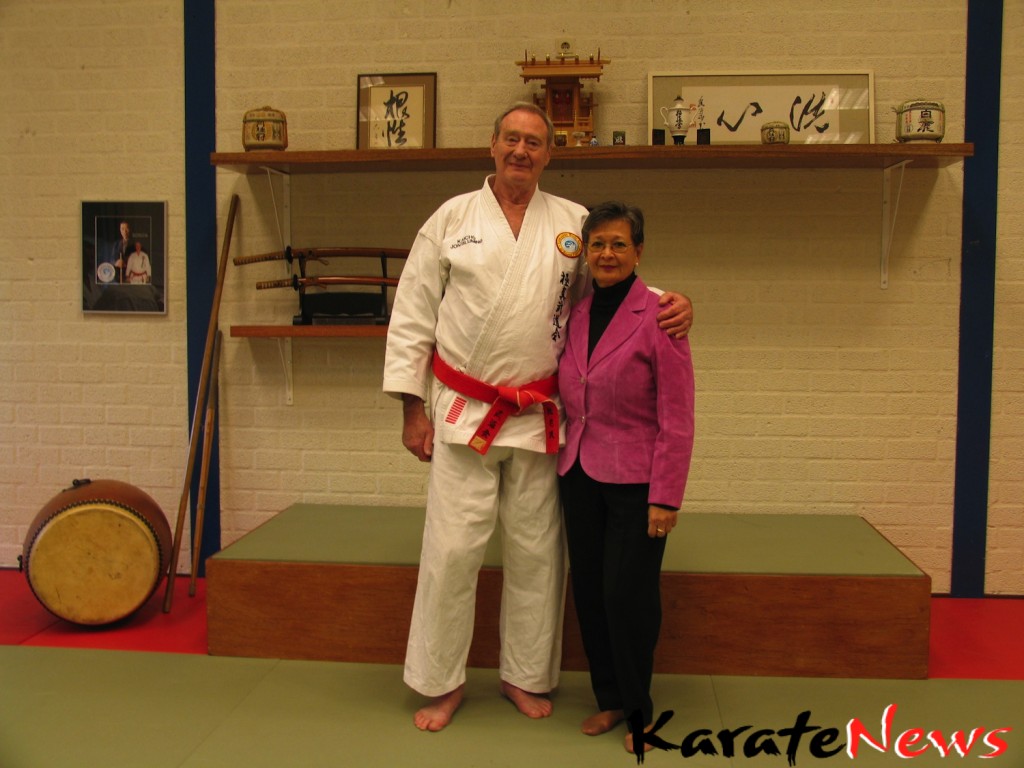 Kaicho Jon Bluming 10. Dan Karate med sin japanske kone

The World Open Tournament is an no profit World Tournament and is organized together with the Danish Independent Danish Full Contact Karate organization and the Danish Contact Karate Federation
and the World Kyokushin Budokai (IBK), It is Open for the World Karate/ full Contact Sports Organization , do not matter, name, style or dojo. Every Organization or Dojo that sign up for this
World Tournament will be invited as head Judges, Referee adviser, organizer and the money that your team pay for the participating fee will go to your organization and hand over to the head of this organization at the Tournament day.
Participating fee is 50,00 Euro per kategory.
Kategory: After Knock Out Rules
Who will be the world strongest ever:
1. Kyokushin Full KD (18-39 years old)
(Sosai Mas Oyama´s Kyokushin Knock Down karate)
A). Open Weight Division
B). Weight Division: −68kg,-78kg, -88kg
C). Woman Weight Division: −55kg,-65kg +65kg.
D). Veterans: 40-49 years old. Weight −83kg + 83 kg.
E). Masters: 49+ years old. Weight −83kg +83kg.
2. Kyokushin MMA Full KD ( Jon Bluming All Round Fighting)
3.Kyokushin Full KD with Face Punch ( Kancho Hatsuo Royama Shinken Shobu)
3. Kyokushin Semi KD (no knock out to the head)
Age:
Senior 18- 60 years old. Men: -68kg,-78kg,-88kg +88kg
Junior 14-15 years, 16-17 years, 18-19 years. Boys/ Girls: -48kg,-56kg,-66 kg, +66kg.
4. Free Style Show: tameshiwari, self-defense. You have 5 min and must bring your one materials.
You can sign up for this "Ultimate World Open karate Tournament" to E-mail: info@worlkyokushin.com before the 1. of Marts 2013.
If the International Committee accept your application forms you Will get a E-mail from the Committee that there have accepted your Application.
When you Dojo or national team are applying to participate at the "Ultimate World Open Karate Tournament" at the 25th of May 2013 in Copenhagen,
the World Events Committee will send you all the Applications forms. Re
member to send your team list before the 1st of Marts 2013, with your full team list; full name,
weight, hight in cm, experience ( tournament) , grad, category, international organization, Dojo name, Coach name, number of Judges / Referee. Send us also information if you are in need of VISA,
Hotel, sleeping place, so we can give you the right support to participating in this great Events in Copenhagen.
In accordance with the requirements all participants in the ages under 18 years old, must make a written permission sign by the competitors parents, to participatin in this World Open karate Tournament.
We will make a Magazine for the Ultimate World Open karate Tournament 2013 in Copenhagen, so make sure that we have all the necessary information and good quality picture of the team both coach, officials,
Referee, Judges and Competitor. All the competitor from each Categories will be put in the magazine , so you can see your opponent. Remember to bring your national flag and national music.
When the team are arrives at the Tournament Hall Friday at the 24/5 2013, all the competitor will receive the World Open Karate Tournament Magazine, after the registration and weigh in.
The Tournament start at the 25th of May 2013 at 9:00.
After the World Open Karate Tournament at the 26 of may 2013, we will make an Open Kyokushin Karate Seminar and World meeting where
all the Kancho, Hanshi, Shihans, Sensei
can vote to be host for the next World Open karate tournament in 2015.
All the world Organization, Dojos, Countries that participating in the World Open Karate Tournament
with teams have a chance to organized the next World Tournament. With support from all the other countries.
The World Seminar and Meeting will be at the Japanese Tokai (Bosei ) in Praestoe Denmark, we will organized transport to this wonderful Japanese place. But please send us the total number of participating for the World Seminar and
have many will be attending the World Meeting in your Application forms. Also if you like to be Instructor at this Seminar. The World Events Committee will organized the Seminar together with the experiences instructor from the world organization.
Tokai Japanese Sports School is a fantastic Japanese Building with a wonderful Dojo. Every organization can be instructor at this Seminar . See more at www.bosei.dk.
if you have question or
are in need of support with Hotel / Hostel Homesplease send us a E-mail: info@worldkyokushin.com. you will find more information at: http://www.worldkyokushin.com
"Send us your link to your organization and we will be happy to put your link at our homepage. Also if you have old kyokushin picture or kyokushin stories from your countries , help us to update the worldkyokushin.com
We wish all the World Kyokushin Organizations good health, happiness and prosperity in this coming new year and we are looking forward to meeting your all in wonderful Copenhagen the 25th May 2013.
Sincerely,
Osu in the spirit of Sosai
The World Events Committee
Hanshi Jan De Bruin 8. Dan Holland
Shihan Tom Madsen 7. Dan Germany
Shihan Klaus Nonnemacher 7. Dan Germany President GCO ( Global Combat Sports organization)
Sensei Soren Sandersen 4. Dan Denmark ( DKKF The Danish Contact Karate Federation Tournament Committee )
Hanshi Pedro Roiz Spain 8. Dan
worldkyokushin.com
can find
Shihan Flemming Jinzen Schrøter 7. Dan
shihan@kyokushin-kan.dk
kyokushin-kan.dk