Text: Lars Andersen
Photos: Anders Uhrenfeldt & Allison Teran.
For the last 5 years the Tokushinryu Kobudo Winter Gasshuku has been arranged by the Tokushinryu Kobudo Valby Shibu www.bosatsu.dk. This year the was the second time that the Tokushinryu Cup was held.
Tokushinryu Cup
Tokushinryu practioners from Denmark, Germany and Sweden participated in this year's Tokushinryu Cup. According to the the rules the competiors had to perform a long weapon kata(bo, eku, nuntibo or yari) in the first round. In the second round the competitors had to chose from the long variaty of short weapons (sai, tonfa, tekko, tichu, kama, nuntisai, tinbei, sansetsukon and gusan).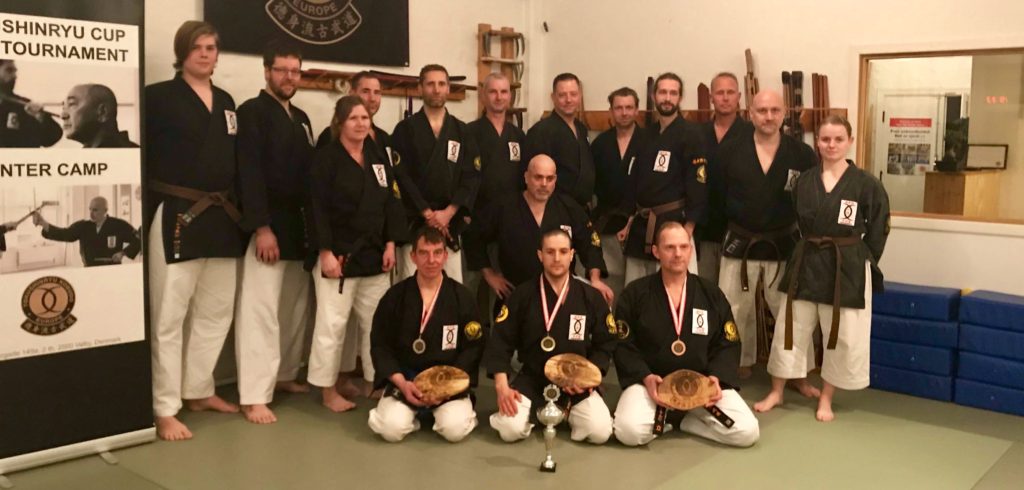 Tokushinryu Cup participants
The winner Diego Rodriguez Sensei from Stockholm, Sweden demonstratrated the following katas: Tokumine no Kun, Tokushin no Nuntisai, Hamahiga no Tonfa and Chatan Yara no Sai.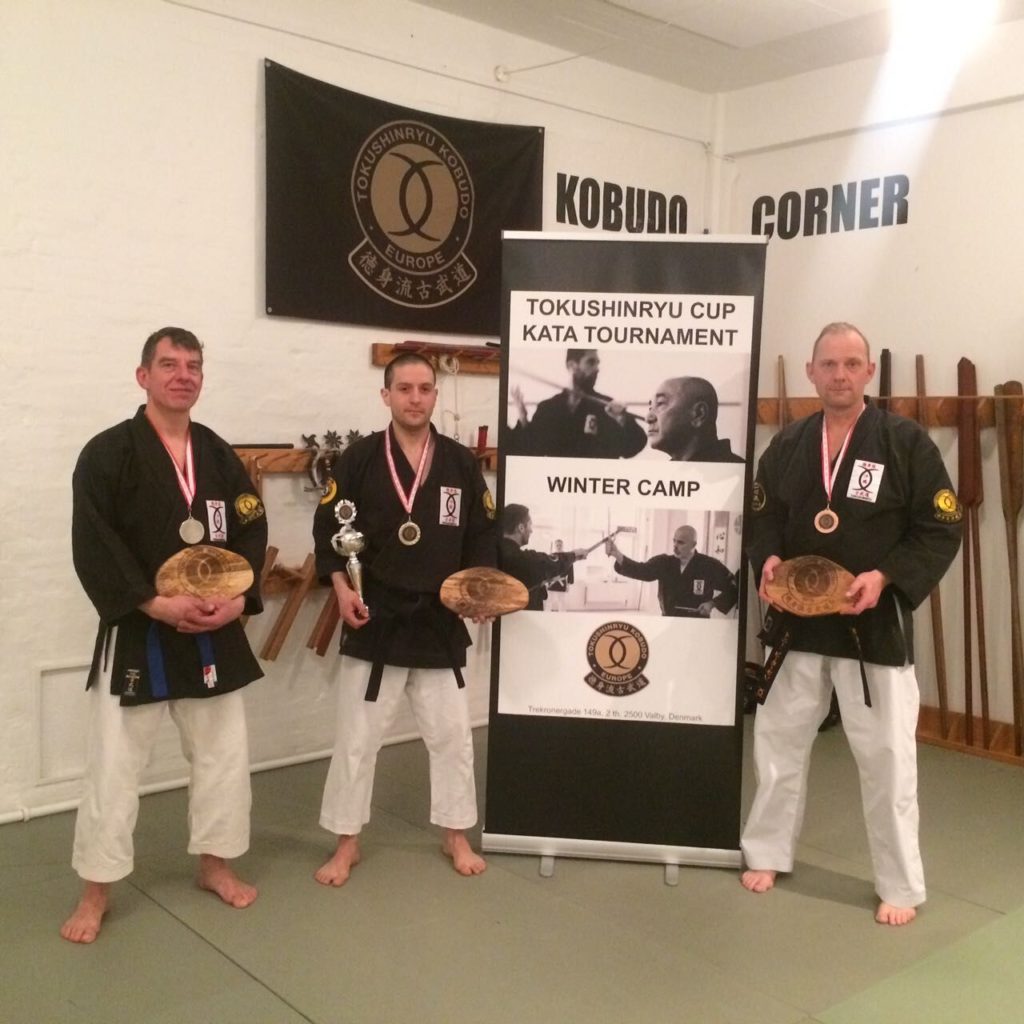 left to right: 2nd place Michael Guddat, Hamburg, Germany – 1st place Diego Rodriguez, Seishin Kan Stockholm, Sweden and 3rd place Tonni Christian Petersen, Gotokukan Hvidovre, Denmark.

Tokushinryu Kobudo Winter Gasshaku
Started on Saturday morning the instructors were Jan Overgaard Sensei from Gotokukan Hvidovre and the author. The topics were the bo kata Tokumine no Kun perfomed as renzoku bunkai kumite and Tokushin no Nuntisai bunkai.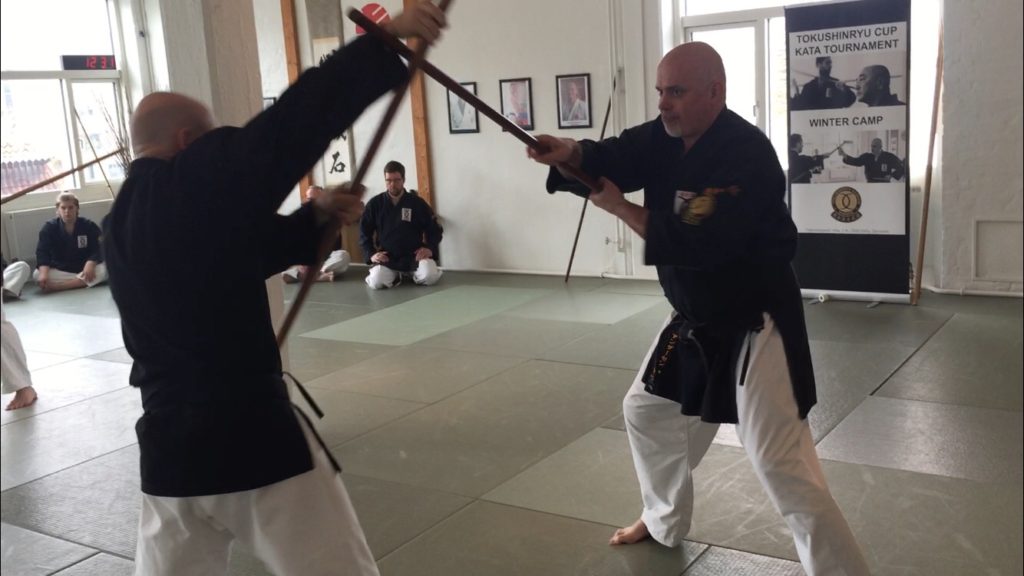 Press here to see Tokumine no Kun Renzoku Bunkai Kumite!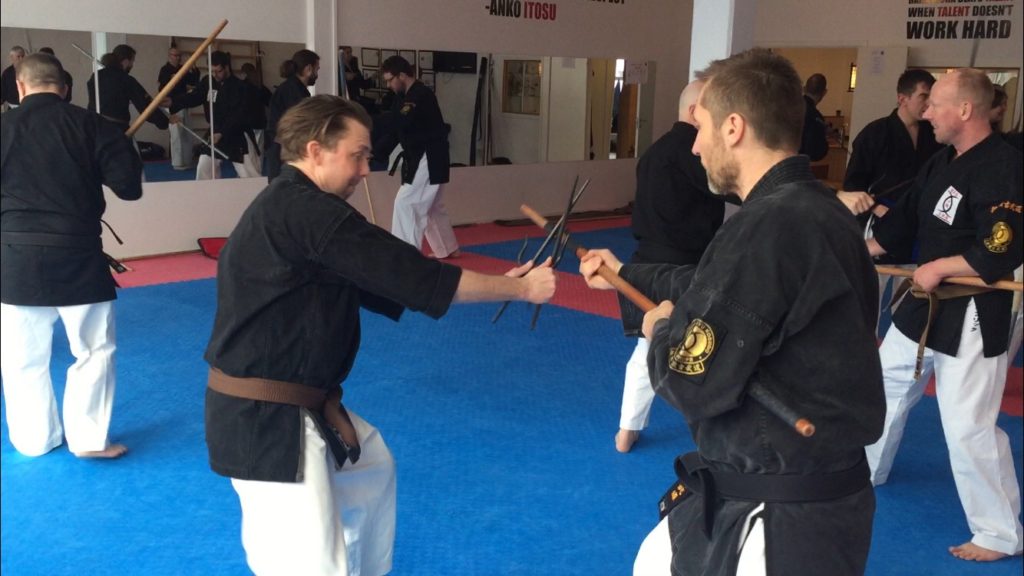 Nuntisai bunkai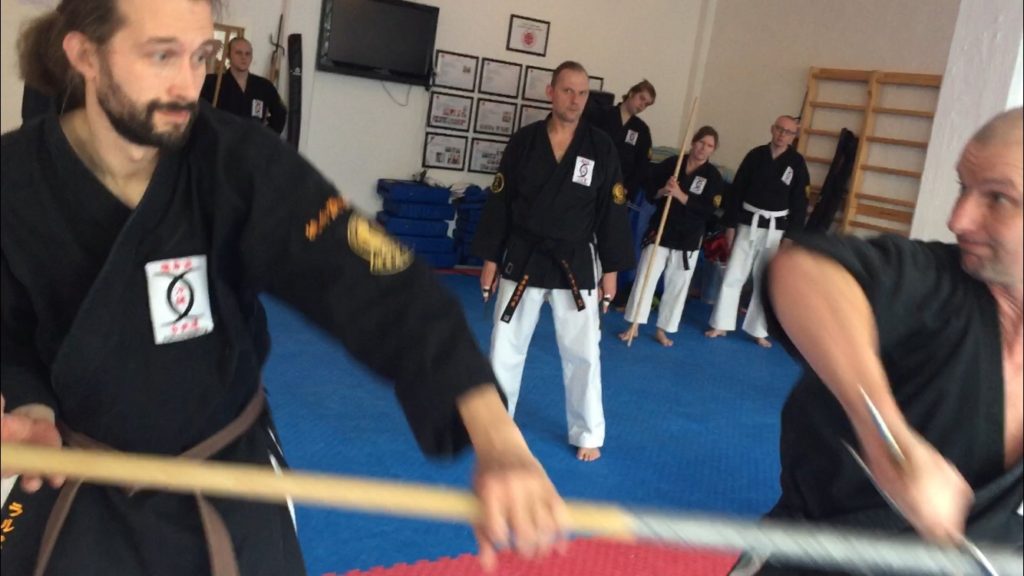 Nuntisai bunkai
A grading was also conducted Saturday with following results:
Nidan: Diego Rodriguez, Seishin Kan Stockholm, Sweden
Shodan: Pernille Hansen,  Gotokukan Hvidovre, Denmark
Nikyu: Peter Ekebjærg, Gotokukan Hvidovre, Denmark
Sankyu: Carsten R. Knudsen, Gotokukan Hvidovre, Denmark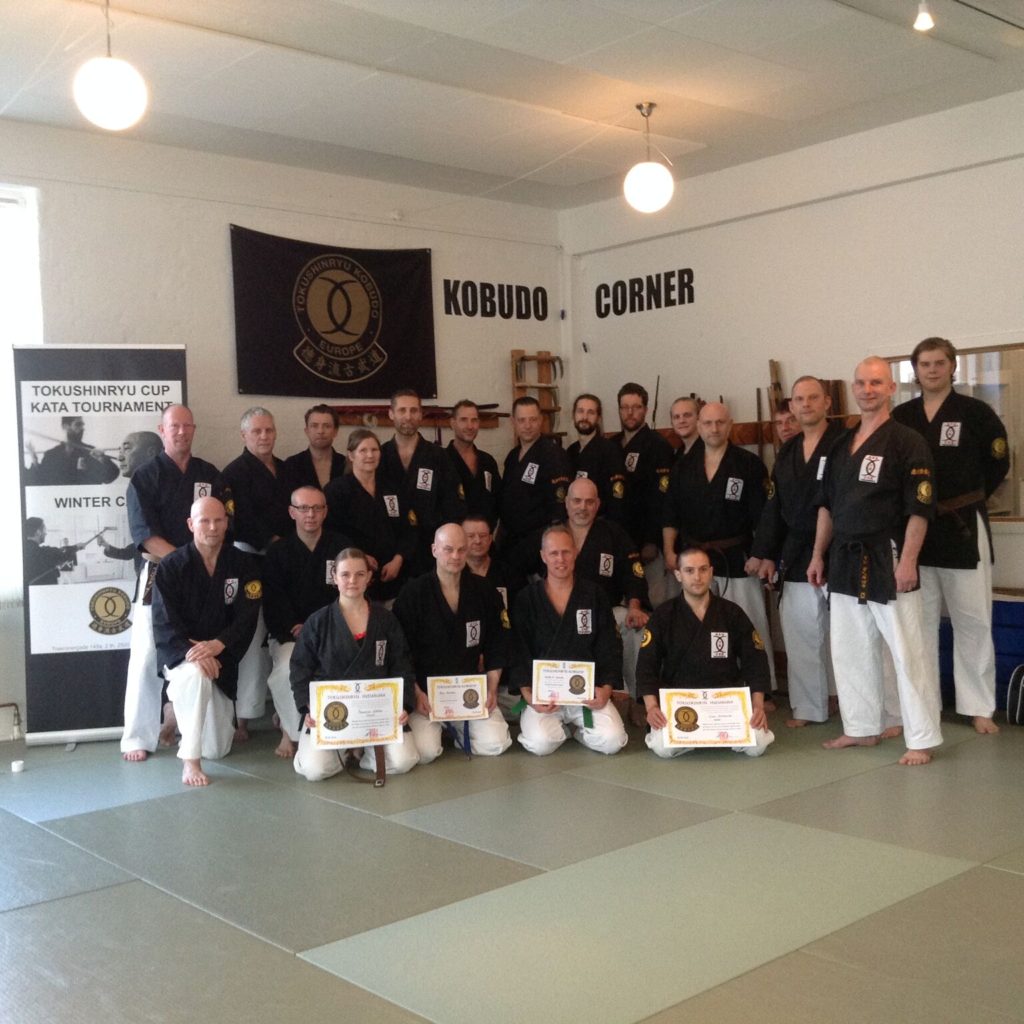 Belt promotions and group photo!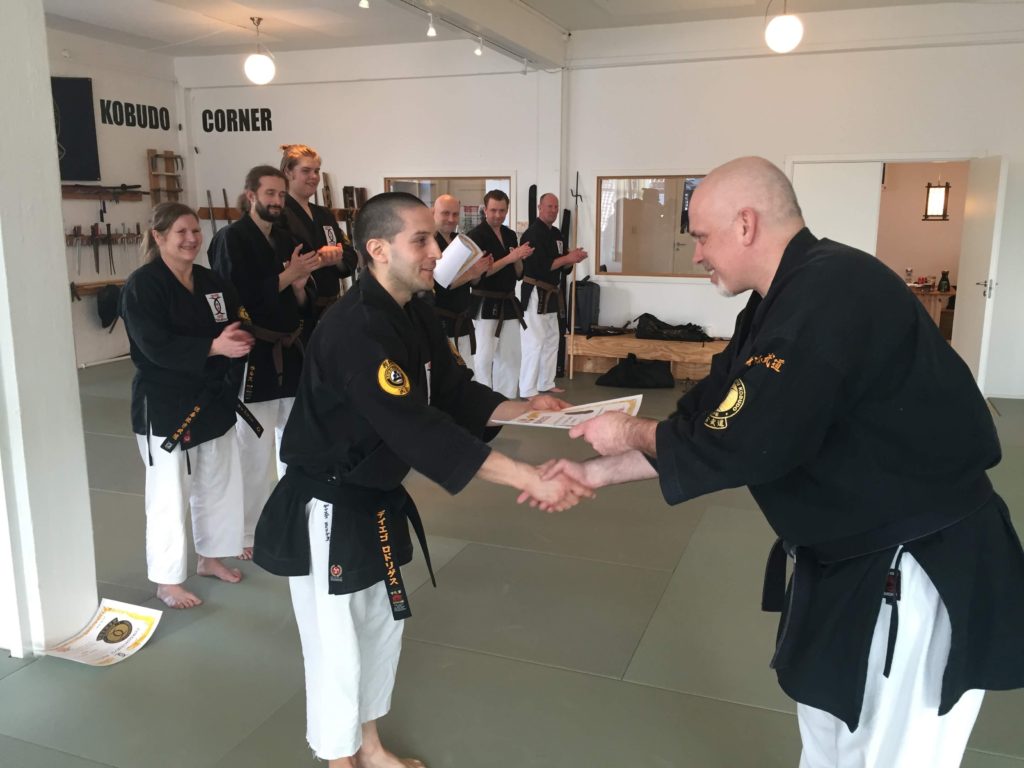 Diego Rodriguez of Seishin Kan Sweden receives his nidan certificate!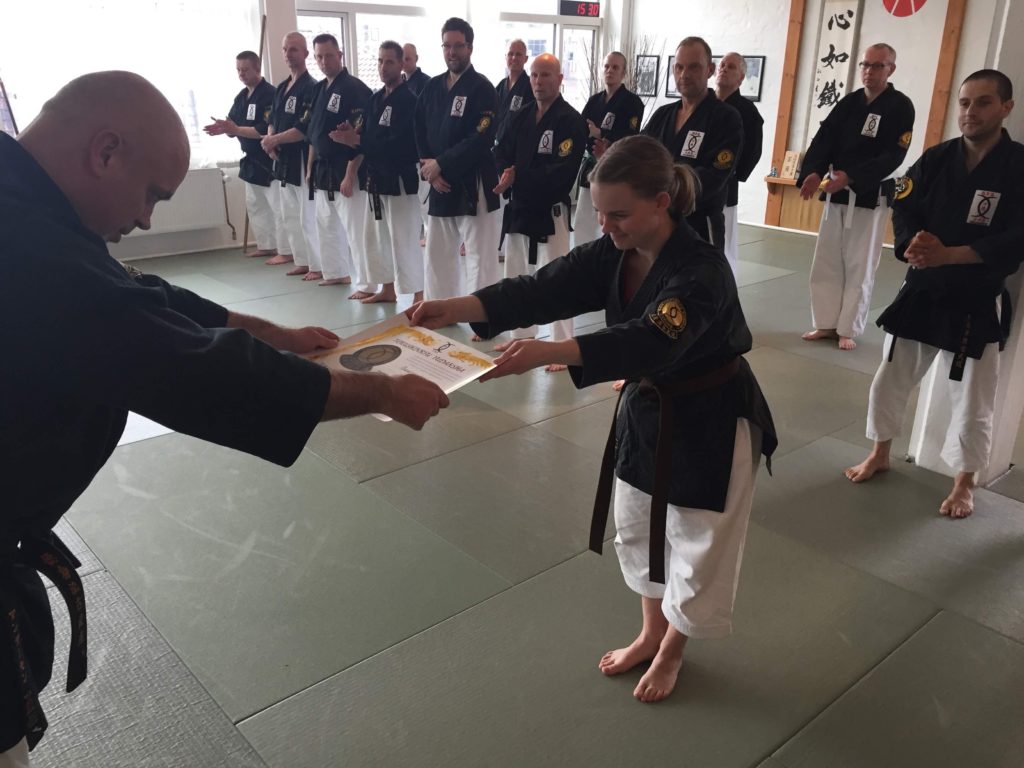 Pernille Hansen of Gotokukan Hvidovre receives her shodan certificate!
Sunday was dedicated to the Sai Sai Pechin Kumite which is an advanced partner form that can be used as a template for a variaty of short weapons.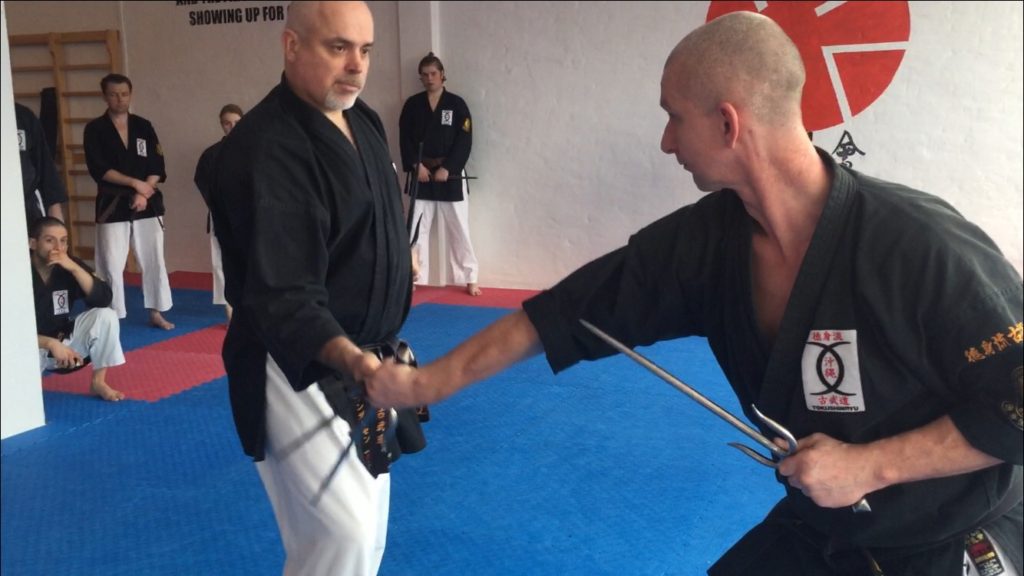 Sai vs Sai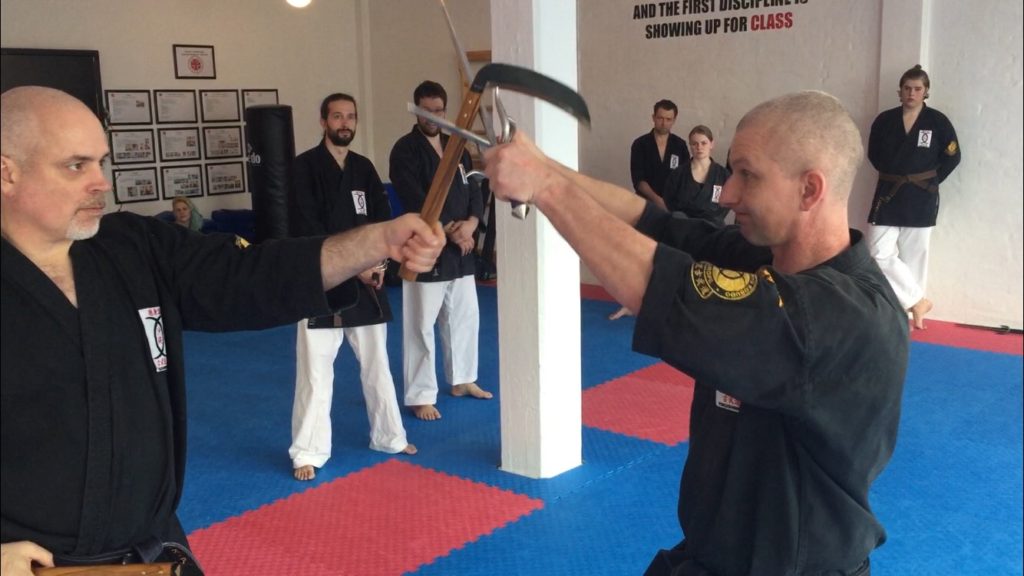 Kama vs Sai
Press here to see the exercise!
See you all at the Summer Gasshaku in Nakskov from the 31st of August to the 2nd of September.