Text and photos Göran Nilsson sensei
Halmstad Karate Academy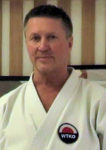 Several years ago, we started Saturday Parents Day. On this special day we invite important karate- and budokas, to give inspiration for the children and their families, room to discuss, get answers to questions about budo and karate. Previously we have invited sensei Roy Andersson, sensei Paul Kee and sensei Johan Backteman, who are all great karateka, lives budo everyday and have great competence and experience. This year I wanted to get in contact with a great karateka from Denmark, the country I lived, trained and competed in for 10 years together with my little daughter Emelie. Ever since I moved back to Sweden, I have been thinking about sensei Frank Starck-Sabroe from Denmark, 8 dan and chiefinstructor for Shotogakusha Europe.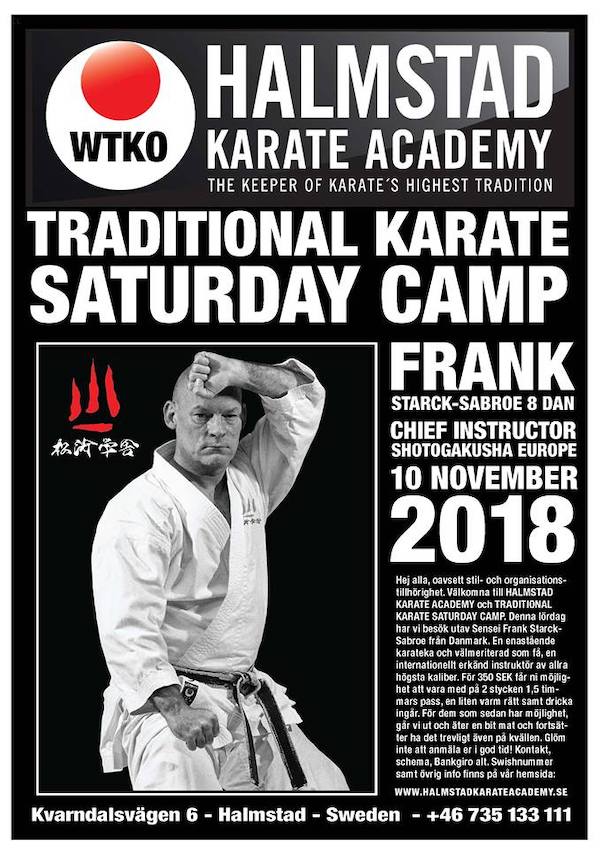 Initially I spoke with my sensei John Nielsen, who is a great man and karateka, but John sensei no longer provide lessons in karate-do. So after talking to my sensei (John Nielsen), I directly thought whether it was possible to get in contact with sensei Frank. I have only met him a couple of times in the past with my dear friends Kenneth D Hansen, Jesper, Hussein, Hassan, Habi Hadrissi, Niels Corlin. Later on I was competing together with Jacob and more people from Karate Do Kyohans team against sensei Buras Honbu Dojo in the finals in team kumite in the Danish Championship. I think I was lucky, since I never had to compete against sensei Frank ;)
When I established contact with sensei Frank, he was glad to hear from me, remembered me and he said it was a great honor to receive my invitation. He was so gentle, warm and handled my invitation directly. Of course he had to take contact with Shotogakusha, but he assured me he would revert as soon as possible. Our conversation was not short and "cold" like I have experienced with other "big organisations" – no names mentioned ! Previously I wanted to give the other organizations a chance, but I have invited them over and over again without any success. I would just like to try and meet and train karate together again with my old shotokan friends, team members and old students. But now, I won't do that mistake again!

I was really glad to speak to him, and it was a really great feeling directly –  lovely! BUDO! Which I really love!
A couple of days past, before I got a message from sensei Frank… no problems, we're coming! We seemed both to look forward to meet, train and stay in Halmstad. I was hopeful, but also a little bit scared maybe this organisation would stop it too… but NO! I was so glad to see that it was going to become a reality. Of course we focus on traditional karate, and now it was not only me and my students who loves karate, but now we could share our knowledge with other karatekas from other organisations – and styles!
What happened, is going to become history! It was a superb day together with sensei Frank, with genuine warm instructions and the greatest know-how about karate and BUDO! It was really a great demonstration in budospirit, in sharp contrast with many lovely laughing moments by sensei Frank and his accompanying bo (cain). He began teaching with the youngest from 4 years old, all the family members, mum and dad, sisters and brothers – over 60 people joined the first hour! Following the first lesson, two 1,5 hours session was arranged for the seniors – he is going all in! Gently and lovely handled every single student very personally ! Everybody told me afterwards that it had been an excellent day – a perfect traditional karate Saturday camp!
Between the double sessions, we socialized in our dojo with a little bit to drink, a hot sandwich, coffee and cakes. We said sayonara to all at 16.00. After a bit of resting and relaxing, some of us went to the city, looking forward to meet sensei Frank and Dan at O´Learys. We enjoyed ourselves with good food, drinks, more fun, lovely discussions, and laughs  :)
From all of us in Halmstad Karate Academy and WTKO Sweden, we thank you so much sensei Frank and all of Shotogakusha Denmarks.